Delhi Manali Ladakh Srinagar Jeep Safari
Delhi Manali Ladakh Srinagar Jeep Safari (Mitsubishi Pajero)
( Foreign National only)
| | |
| --- | --- |
| Trip Title: | Delhi Manali Ladakh Srinagar Jeep Safari (Mitsubishi Pajero) ( Foreign National only) |
| Destination: | Manali to Leh / Ladakh to Srinagar (Kashmir) |
| Type: | Adventure + Culture + Scenic Beauty + High Altitude Lake |
| Duration: | 13 nights / 14 days |
| Best Time: | June to Mid September (Operational months) |
| Grade: | Moderate |
| Maximum Altitude: | 6726 Ft ASL / 18380 Ft. |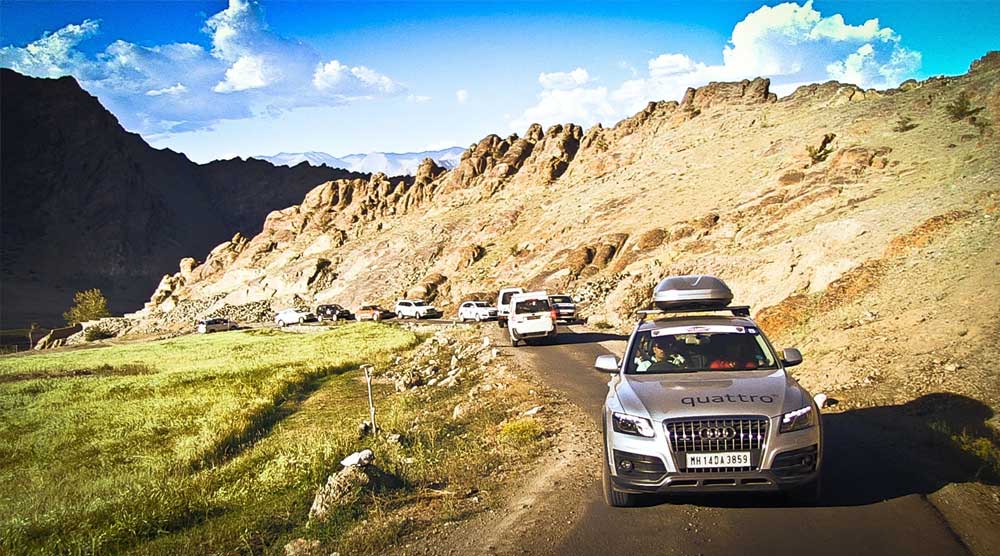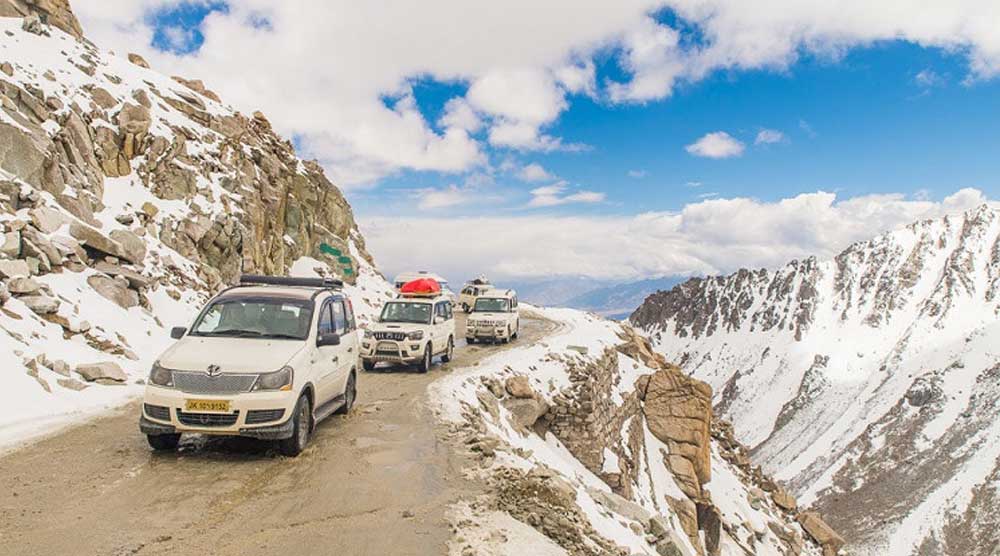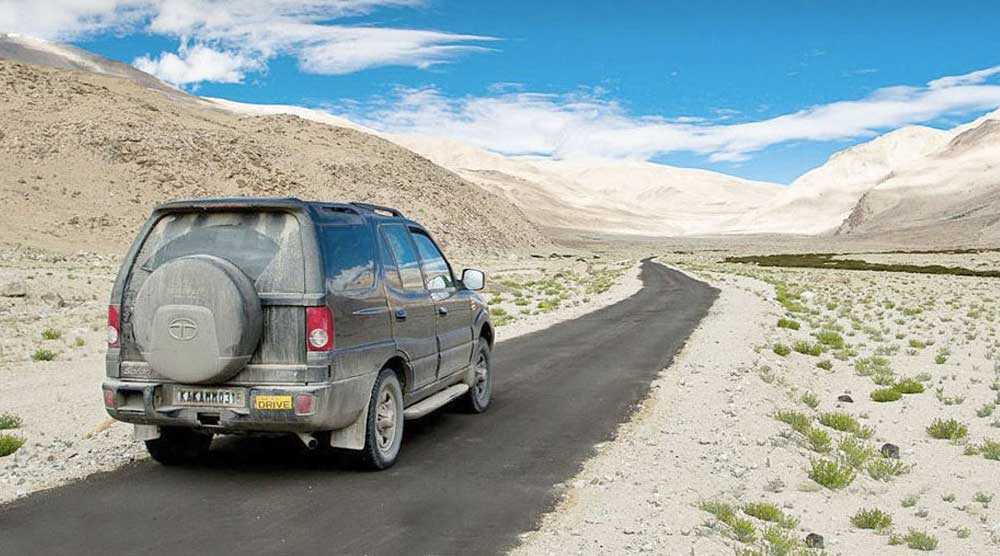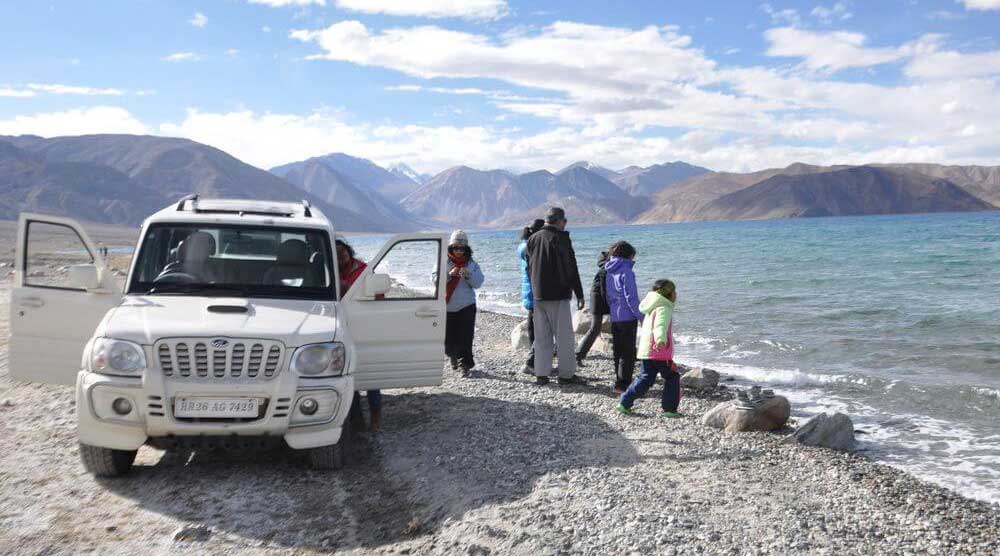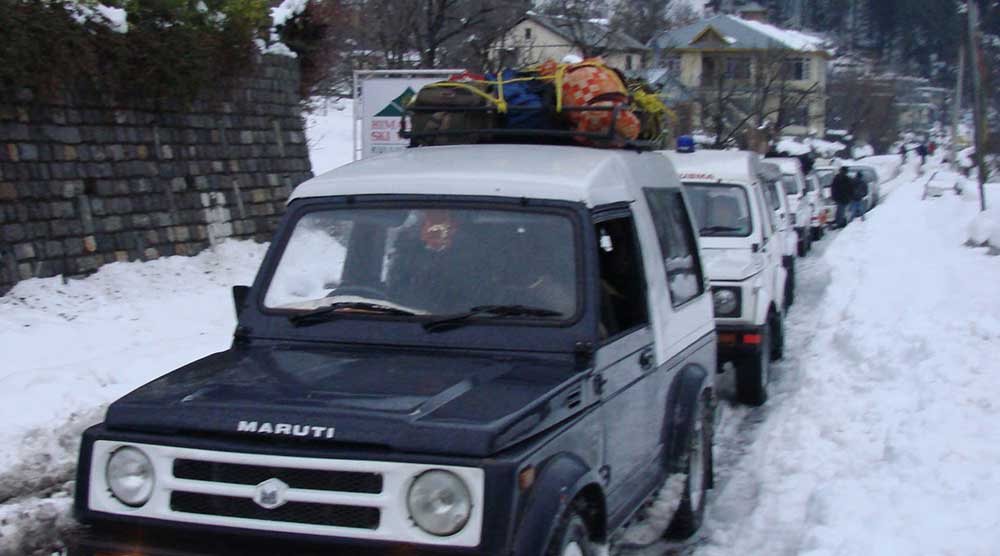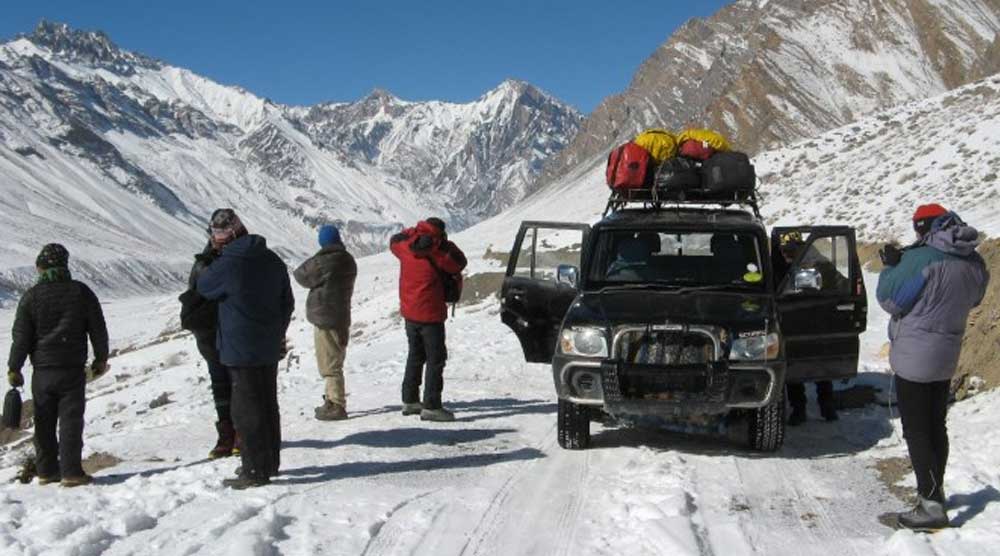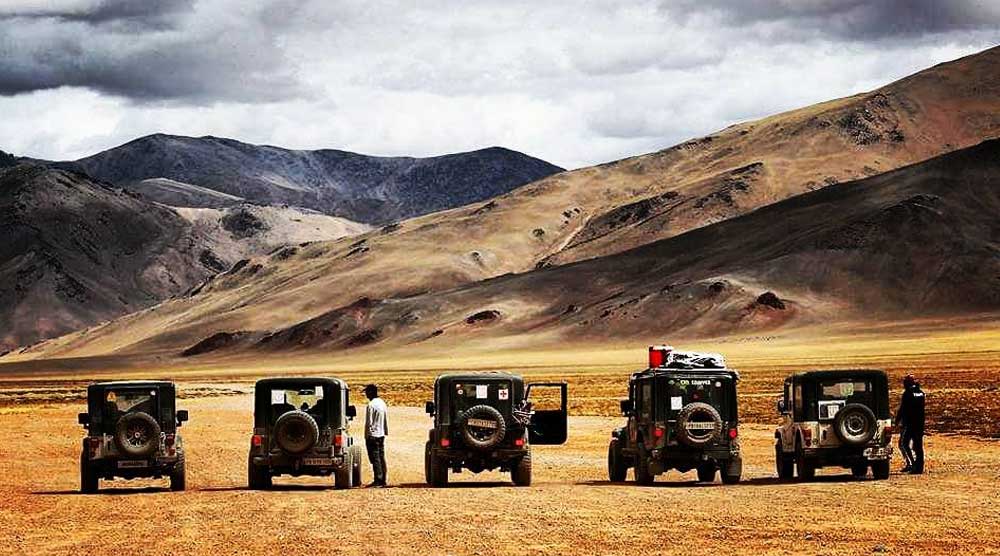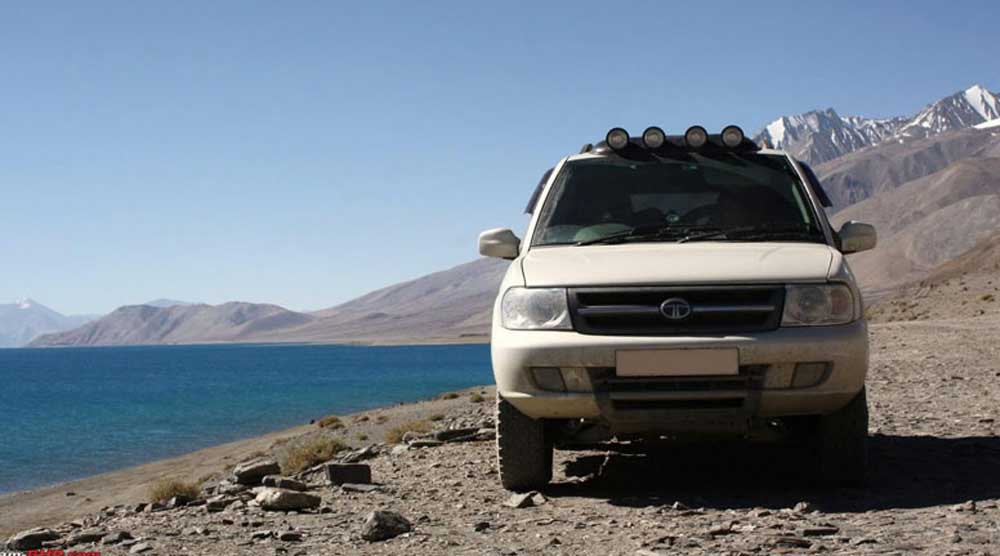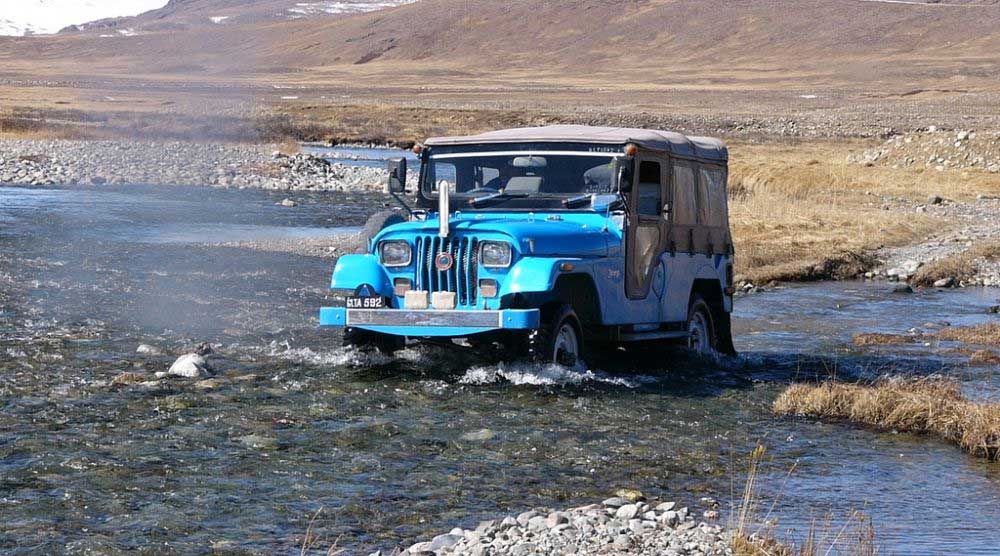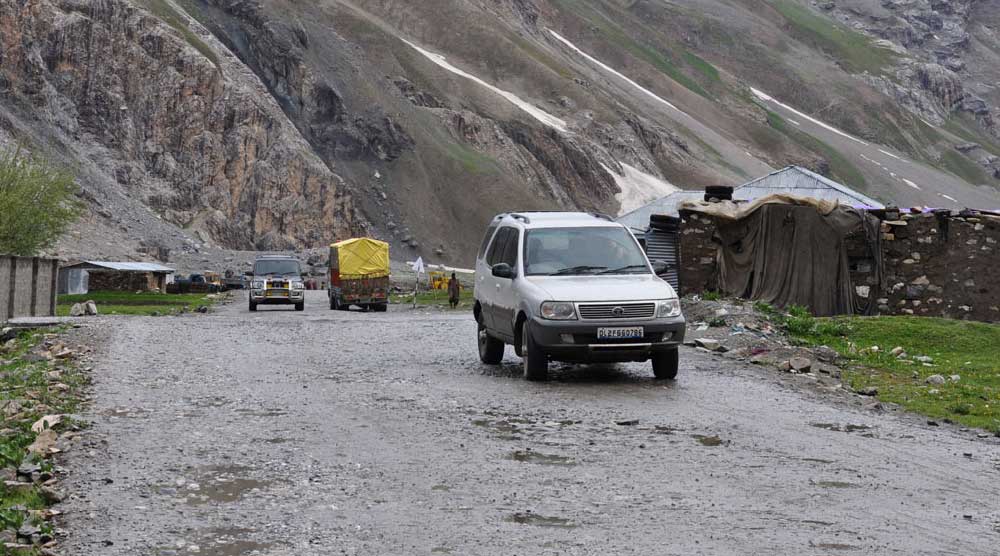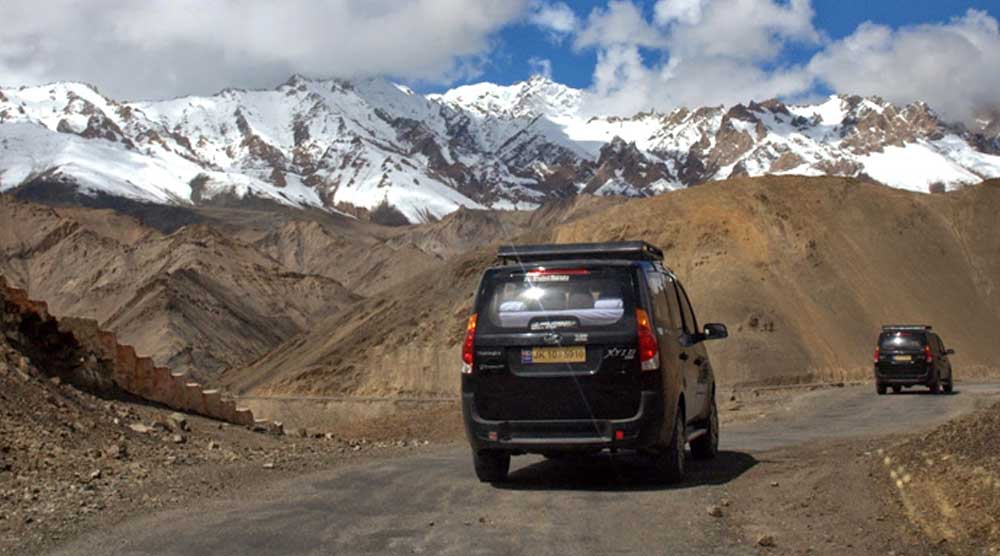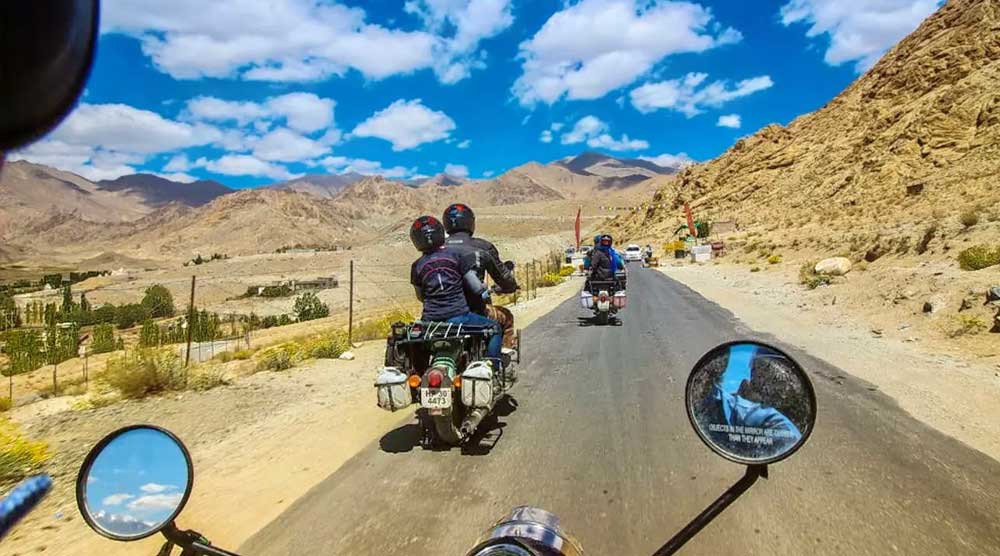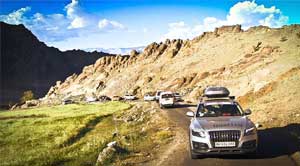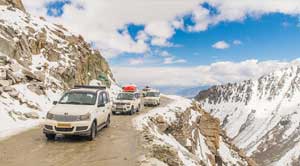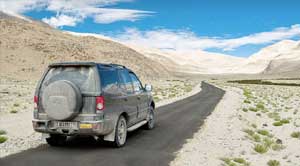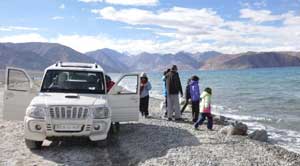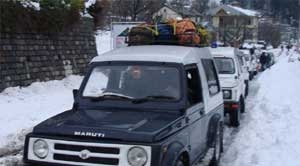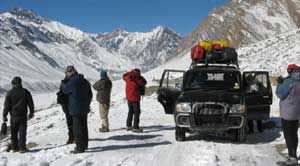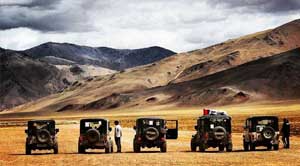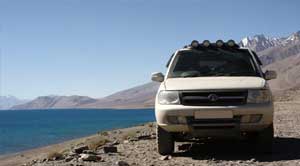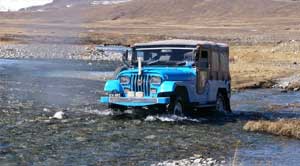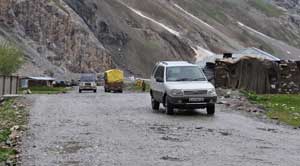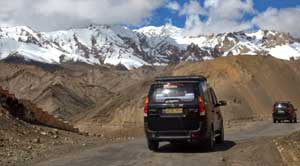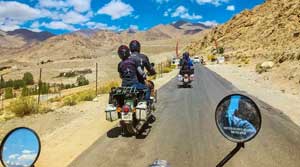 Overview
Trip Highlights: Chandigarh - Manali Town, Rohtang Pass / Chandra and Bhaga Rivers, Keylong , Darcha, Baralacha –Pass , Sarchu, - Tanglangla - Leh city – Khardungla pass – Nubra Valley Pangog Lake – Monasteries – Fort and Palaces – Alchi Lamayuru Valley – Fatu La Pass - Kargil – Drass D Zozila pass – Sonamarg & Srinagar City.
Manali: One of the most beautiful hill station in North nestled in north Himachal Pradesh. Lush green valley waits for your arrival. Your overland safari Mnalai to Ldakh begins very next day of your arrival in Manali to reach at Rohtang Pass ( 13000Ft Appox) which differ Lahaul valley & Spiti valley extreme North + North East of Himachal Pradesh and Manali valley. Descending down from Rohtang pass suddenly overall vegetation get change which will make you feel to enter in different world. Following the Chandra & Bhaga rivers this is recommended to stop at either Keylong which is the distict headquarter of this region or bit further away to Jispa just before you ascend to baralacha Pass. Jispa onwards you will encounter the second pass called Bara Lacha Pass surrounds by heavy snow and offers an incredible view of Trans Himalayan ranges. Further drive to Sarchu a flat ground drving an altitude of around 4000meter above sea level will be another major attraction. Gradual climb to reach at Pang where you may find some seasonal tea shop and eat some food.
Leh: one of the most beautiful city situated at an altitude of 3500 M ASL famous for highest high altitude airport an ethnic / Ancient and colorful city. Monasteries, fort and palaces, gateway to Silk route, Hub for Buddhist culture for red sect and yellow sect. lush green valley around river Indus and agricultural fields and business hub for this region. Much more to explore in and around Leh.
Khardungla Pass & Nubra Valley :highest motorable pass in the world which make you feel being at the roof top of the world. This pass differ Nubra valley and Leh valley. border with Pakistan in north west and Tibet in north east. Nubra means valley of Flowers a silk route to Siachen Glacier and way to Pakistan. Lush green valley with two hump camel awaits for your arrival.
Pangong Lake:one of the most beautiful high altitude lake in the north east of Leh city. Considered approx 150 long lake has around 25% in India and rest in Tibet. Changes its color as per the sun light and you may see the spectrum of its reflection from different angle. Approx 150 kms drive onw way worth visiting to see the silent witness of God's creation.
Alchi - Lamayuru Valley:Driving in the west following Indus river at the confluence of Zanskar and Indus river you may encounter some of other monasteries you will reach at Alchi which is only one monastery in Ladakh constructed in a flat ground. Further drive to Lamayuru Monastery you will encounter a strange formation of landscape called Moon Valley. A picturesque monastery belongs to centuries years old. Further drive takes to Fatu La you would like to stop at Mulbekh to see an image of Buddha Carved on a large stone. Kargils is the headquarter of this region and close to India – Pakistan border.
D Zozila Pass and Kashmir Valley :Driving in west from Kargil you will arrive at Drass which is the coldest region in India and further drive to the top of D Zozila pass differes Kashmir and Ladakh region. From D Zozila pass you need to descend up to Sonamarg which is one of the beautiful destination in Kashmir. Dramatically exchanged variation of this route will thrill your journey and exchange with an unforgettable experience.
Itinerary Program:
DAY 01

Arrive Delhi

You will be met upon arrival at the international airport in Delhi and transfer to your pre booked hotel in the capital. Overnight stay at the Capital

DAY 02

Train to Chandigarh and Drive to Manali

Morning you will get transferred to the railway station in time to board morning train to Chandigarh which may take around 5 hours. Assistance upon arrival in Chandigarh and drive to Manali. 325 kms drive will take approx 7 – 8 hours to reach at the town on Manali. Check in at the hotel and overnight stay

DAY 03

In Manali

After a leisurely breakfast explore the best of Manali town. One of the most favourate destination for Indian tourist may be crowded with many visitors in summer. Explore Mall Road / Hadimba Temple / Vashisth Ashram and hot spring at the temple and post lunch check your gears and essential stuffs for your overland dive to Leh. Dinner and overnight stay at the hotel in Manali.

DAY 04

Drive Manali Rohtang Pass - Koksar - Keylong & Stay overnight at Jispa

Depart Manali early in the morning our first halt is Marhi A barren landscape offering extensive views of the valley and the mountains. We proceed to Rohtang Pass 3790 M is most popular with visitors, being one of the highest road point and gateway to LAHAUL and SPITI valleys. Pass remains closed during winter due to heavy snow from November end to May end. Visitors can drive upto MARHI below ROHTANG with similar high altitude topography, forest of Birch, Fir and Spurce. Once we cross the Rohtang Pass border we are in the Barren Himalayas with the landscape completely changing Khoksar is the first village and gate way to Lahaul. You will arrive at keylong at Distract head quarter, further drive will take you at Jispa and Overnight stay at the hotel

DAY 05

Drive Jispa - Darcha - Sarchu- Leh

Get prepared for the most interesting overland high altitude drive up to Leh. May take approx 10 hours. You will arrive at Darcha ( 3500 Meter) is situated at the junction of Yotche Nullah and the Zangskar chhu which takes off from the Shinkun la. Both these nullahs meet with the main river Bhaga at this place. This is the main point for the trek lovers wish to enter in Zanskar valley or up to Leh. Your drive from this place will take to BaraLacha Pass ( 1620 Ft) and further drive to Sarchu which is nearly the mid point of Manali Leh route. Continue drive to Pang and cross morai plains and arrive at Tanglangla Pass (5400 M) and enter in Leh Valley. Your further drive will take you to Upsi by crossing river Indus and follow the highway up to Leh. Check in at your hotel and overnight stay

DAY 06

In Leh: visit the town and surrounds :

The morning is at leisure for rest after the long journey. After lunch visit Shanti Stupa, Sankar Gompa, Leh Palace & the markets. Overnight at the hotel.

DAY 07

Leh - Pangong Lake (150 kms.) :

After breakfast start your another beautiful drive to Pangong lake. (approx. 145 kms, located on the Indo China Border), via Chang-la pass (alt: 17370 ft). Enroute explore Thikse Palace and monastery which is just few minutes drive from the Leh city and Adjoining Thike monastery the most picturesque monastery in Ladakh. Arrive at Changla pass the third highest motorable pass in the world. Descend from here to reach at Pangong Lake and check in at the Fix Deluxe Camp. Rest of the day explore the beauty of the Lake and its surrounding. Overnight stay at Pangong Tso Lake.

DAY 08

Pangong-Hemis / Thiksey-Leh (165 kms.):

After breakfast, leave Pangong and retrace back to Leh city. Upon reaching Karu, drive across the Indus and visit the famous Hemis Monastery, biggest monastery of Ladakh. Later drive back to Leh City and overnight at your hotel in Leh

DAY 09

Leh-Khardongla- Nubra Valley (125 kms.) :

After breakfast leave for Nubra Valley, driving across Khardong-la (alt: 18,380 ft). After descending from the pass, drive on for sightseeing of Sumoor area and Samstaling Gompa. Later check into a fixed camp in the same area or drive across to Deskit / Hundar for overnight in a fixed camp or hotel.

DAY 10

Nubra Valley- Khardongla-Leh (125 kms.) :

In the morning visit / explore Deskit , Hundar and the Sand Dunes where you can enjoy a short camel safari using the double-humped Bactrian camel found here (optional on direct payment). Later drive back to Leh reaching in the late afternoon / evening. Overnight at the hotel or Fix Camp .

DAY 11

Leh-Alchi – Lamayuru – Kargil :

After leisurely breakfast drive down the Indus Valley on the first leg of your journey to Kargil & Srinagar. On the way, visit Hall of Fame, Gurudwara Pathar Sahib, Magnetic Point, Sangam (confluence of Indus & Zanskar Rivers) and then the 11th century Alchi Choskor, oldest surviving monastic complex famous for its wall frescoes and architecture - a UNESCO listed heritage site. Continue drive towards Kargil, enroute visiting the dramatically located Lamayuru monastery and the adjoining "Moonland" hills. On the way to Kargil you can view the 9-Mtrs. tall rock sculpture of the Maitreya Buddha at Mulbek (7th –8th century AD). Overnight in hotel at Kargil.

DAY 12

Kargil-Sonamarg-Srinagar (205kms) :

Early departure for Srinagar driving through Drass (famous as the second coldest inhabited place in the world) and crossing the Zoji-la Pass (11,500-ft. / 3,505 m) to reach hill station of Sonamarg from where it's smooth driving through the beautiful Kashmir countryside to reach Srinagar. Overnight in hotel at hotel / Deluxe house boat in Srinagar.

DAY 13

In Srinagar

After a leisurely breakfast get prepared to have a shikara ride at Dal lake to see the beauty of the lake and local shopping around. Back to the main land and explore world famous Mughal Garden / Nishat Bagh. Explore the down town area of Srinagar city and colorful market may attract you for the local souvenirs. Back to the hotel / Deluxe house boat and overnight stay.

DAY 14

Departure Srinagar

After breakfast you will get transferred to the airport in time to board flight for onward destination Optional:
Enquiry Now!
Exclusions:
Srinagar to New Delhi flight.
Passengers insurance
Medical evacuation
Contingency expenses.
See Itinerary
Exclusions:
Fully equipped self-drive 4X4 vehicle, Fuel, Accompanying guide, Full catering start to finish, Navigation, Recovery, Destination intelligence, Customs, Translation, Permits, Accommodation on fullboard at Camp sites, Lodges, Resorts/Hotels and House Boats, Train ticket from New Delhi to Chandigarh based on air-conditioned chair car in Shatabdi Express, Mechanical support, Entry fees, Permit for Leh and Ladakh, Vehicle insurance with limited liability of passengers, Full video CD of the Journey shot by GoPRO camera installed on First and last support vehicles.
Vehicles Used Mitsubishi Pajero Sports 2.5 liters
Meeting and start point: New Delhi international airport.
Further details: Are in Info pack, which is handed over on arrival on Day 01 in New Delhi.
See Itinerary
Enquiry Now!